Posted by Elyse Cruz on Aug 27th 2023
H&R Special Springs stands as a luminary in the automotive suspension industry, hailing from Germany with a legacy of superior craftsmanship. They offer an extensive range of products that cater to every suspension need, from their signature lowering springs to advanced coilovers, sway bars, and wheel spacers. Each product is meticulously engineered to strike the right balance between enhanced handling and a comfortable ride, making them a favorite among both casual car enthusiasts and professional racers. Beyond aesthetics and performance, H&R's commitment extends to ensuring that every vehicle equipped with their components gains an edge, whether on city streets or racetracks. Their holistic approach to suspension solutions solidifies their position as a top-tier choice for complete automotive enhancements.
Street Performance Coil Overs
Height adjustable to 1.0 - 2.5" on average
Fine tune lowering to what you want
H&R Street Performance Coil Overs are the perfect suspension solution for discerning drivers—from daily drivers to serious tuners—who can appreciate the awesome handling and superb ride comfort. Each coil over shock is custom valved to work in conjunction with a precision-engineered progressive rate spring, creating a finely tuned suspension system. The fully threaded shock body allows for adjustable vehicle height. This feature helps balance vehicle weight, resulting in a lower center of gravity and improved performance and control.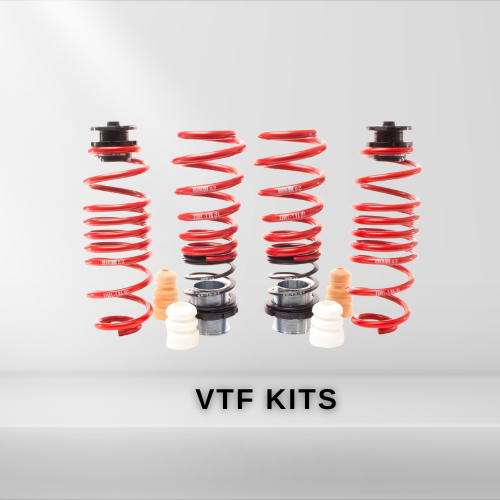 VTF Adjustable Lowering Springs
Lowers approx. 0.30 – 2.7" on average*
Designed to work with original equipment electronic shocks
Precision adjustment collars and spring perches
H&R VTF kits are designed to work with your vehicles original electronic shocks. Specific rate springs provide superb ride quality and comfort, while reducing body roll, offering more balance and control to your ride. H&R VTF packages are made with light weight, high tensile strength spring alloy, feature a limited lifetime warranty, and are TÜV approved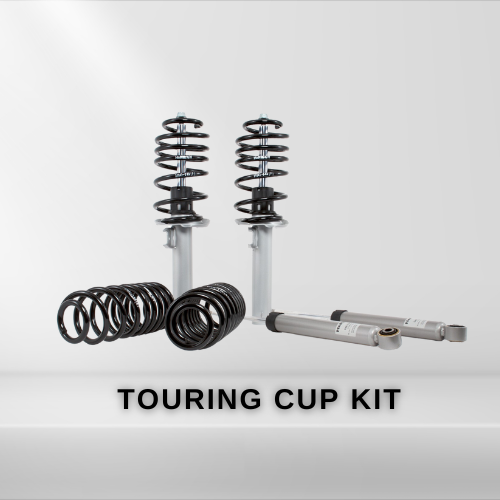 H&R Touring Cup Kit
Lowers 1.5" on average
Superb ride quality
Touring Cup Kits are H&R's most popular spring and shock system. This kit is perfectly suited for those who desire lowering, improved ride comfort, and performance . Enhance the look of your vehicle with a reduced fender well gap. Lower the center of gravity and reduce body roll for better handling. The progressive spring rate design provides superb ride quality and comfort. A lower wind resistance signature will make the vehicle more streamlined and improve gas mileage. Achieve all-around, better control with H&R shocks suspension damping.
Race Springs
Lowers 1.75 - 2.5" on average
Designed for responsive, tight handling and performance
H&R Race Springs are designed for high performance drivers who want the most out of their vehicles. When the need for uncompromised handling performance becomes a priority, H&R Race Springs will provide over-the-top race ready performance and appearance. They help balance vehicle weight for improved performance and control, while lowering the center of gravity. Expect a reduced roll center and reduced body roll from H&R Race Springs.
Super Sport Springs
Lowers 1.75 - 2.3" on average
Provides superior ride and maximum lowering
Only from H&R, Super Sport Springs have all the features of Sport Springs, plus additional lowering—great for the seasoned enthusiast looking for a little more. These high tech progressive springs retain superior ride comfort. The handling of your vehicle will be improved with a lower center of gravity. H&R Super Sport Springs give your vehicle the best-looking performance stance.

ETS Electronic Lowering System
Lowers up to an additional 40mm on average
Retains factory height adjustment switch
Easy plug-and-play installation
Lowering with H&R ETS enhances the look of your vehicle with a reduced fender well gap, and improves handling with a lower center of gravity. H&R ETS retains the factory height adjustment switch and its functionality. H&R ETS modules come with all the parts required for installation. The ETS unit is easily removed whenever you want to return your car back to factory specification.
If you're looking to upgrade the suspension system in your Audi, BMW, Mercedes Benz, Porsche or VW - feel free to give us a call at 888-966-7373. We have a team of experts on hand ready to guide you with selecting the proper H&R parts.